Digital Printing Services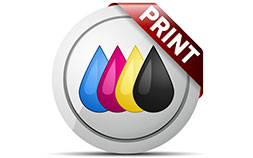 Green Bak employs several printing solutions, all designed with flexibility, versatility cost effectiveness in mind.
Printing Capabilities
Digital printing offers a quality short run color printing solution, without the costs associated with the set up of an offset press.
Green Bak offers sheetfed color digital printing on sheet sizes up to 13 x 19 inches.

Bringing over 35 years of industry experience in typography, design and printing, to create the right solution for your printing needs. Our digital printing solutions are flexible enough to create one prototype and are cost effective to produce several thousand impressions.
When short run, quick turnaround quality printing is required, digital printing is the answer.
We offer one of the fastest print production turnaround times in the western suburbs. For immediate service please give us a call at (331) 209-2117.
Not sure where to Start? Give us a call, we will gladly advise you on the most effective and efficient solutions for whatever print project you have in mind.

Printing Products
Announcements
Banners
Booklets
Booklet Envelopes
Bookmarks
Brochure Holders
Brochures
Buck Slips
Business Cards
Calendars

Carbonless Forms
Cards
Catalogs
CD Covers
Club Cards
Coil Bound Booklets
Corporate Printing
Custom Printing
Door Hangers
Envelopes

Folders
Flyers
Folded Business Cards
Folders
Forms
Greeting Cards
Hang Tags
Holiday Cards
Invitations
Label Envelopes

Large Format Printing
Large Posters
Letterhead/Envelopes
Magnet Printing
Mailers
Mailing Envelopes
Mailing Services
Memo Pads
Newsletters
Note Cards

Notepads
Offering Envelopes
Plastic Cards
Pocket Folders
Postcards
Posters Post-it Notes
Presentation Folders
Rack Card Holders
Rack Cards
Receipt Books

Sell Sheets
Signs
Statement
Stuffers
Stationery
Stickers
Table
Tickets
Vinyl Banners
Yard Signs
---
Offset Printing

When larger sheet sizes and higher quantities are required then traditional offset printing is the solution. However, as in any industry, the range of printing equipment necessary to specialize in any one niche is vast. Each printer purchases equipment based on the type of printing market they intend to service. Some have small format presses to service smaller print quantities, while others utilize 40" presses that are competitive into the hundreds of thousands of prints. Others specialize in finishing, folding, die cutting, gluing or foil stamping to name a few, the list is endless.

Understanding your particular print needs and the type of equipment best suited to producing it, is where we come in. Green Bak has developed what we call our "Print Advocate" philosophy. Most companies don't require a full time print-purchasing manager on staff. To justify this kind of salary a company would need to purchase well in excess of $500,000 in print each year. Think of Green Bak as that staff member – without the salary. As your Print Advocate, Green Bak will do the purchasing for you. We will bid your printing to those who specialize in that particular type of print, understanding your need for quality, cost effectiveness and delivery. 

Employing our "Print Advocate" philosophy, and utilizing our relationships with many of the areas best print houses, we will receive trade discounts not available to the end user, while you benefit from our expertise and save money at the same time. What makes this work is our desire to build long-term, trusting client relationships.
---
Wide Format Printing
To support our design capabilities, Green Bak offers extensive wide format ink jet print services. Printing on media from 24 – 108" wide ranging from backlight film and fine arts canvas to vinyl banners, adhesive vinyl and direct to board, wide format printing is one of the most versatile products for:
· Posters
· Trade Show Booths
· Table Banners
· Displays 
· Indoor and Outdoor Activities/Events 
· Promoting Activities/Events